Rust And Bone (De Rouille et d'Os)
Director: Jacques Audiard
Screenplay: Jacques Audiard, Thomas Bidegain
Starring: Marion Cotillard, Matthias Schoenaerts, Céline Sallette, Bouli Lanners
UK rental release: February 2013
IMDb
LoveFilm
Rotten Tomatoes
Following the active awards season some of you may have a long list of films to watch that you hadn't considered before. And are any of these films foreign or independent, I wonder? Well, actually for once they may be, as the smaller movies of the year had been celebrated as much as the big blockbusters this time around, hopefully shaping the Academy and some of the other awarding bodies to show a wider regard in years to come. If I get my hands on any of these (and I plan to) I'll review some as my "pick of the week" over the coming months to help you figure out whether any of them figure on your watch lists. To start, I'll be taking you through the emotional and uplifting picture, Rust And Bone.
Ali (Matthias Schoenaerts, Bullhead, Black Book), along with his his son Sam (newcomer Armand Verdure), is broke and travelling to Southern France to stay with his sister in Antibes. Louise (Céline Sallette) has a stable job at a local supermarket while her husband drives his own delivery truck; it's enough to pay rent on the flat they can all stay in while Ali and Sam get their feet.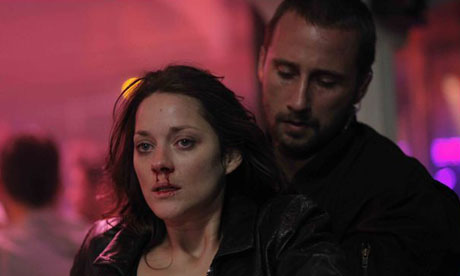 Ali gets a job bouncing at a nearby nightclub. One night, a fight breaks out where a woman has been hit. After breaking up the scuffle, Ali goes to help the fallen lady and offers to take her home. Stéphanie (Marion Cotillard, La Vie En Rose, Inception, Taxi) refuses at first, but finally relents. On the drive home they clash a little, but there an honest chemistry between them. She invites him in for an ice pack to cool his fight damaged hand and it's hear he discovers her trade.
Stéphanie has the breathtaking job as an Orca trainer. She thrives on working with the whales, guiding them through incredible moves through her body movements. This phenomenal skill however doesn't give her the foresight for what's coming: a shocking incident when a show goes horribly wrong injures her to such an extreme she loses her legs, changing her life forever. Her new disability breaks her, washing over her with self pity and depression.
Four months on, and Ali has moved into a new position as a security guard. On a night watch, he gets a surprising call from Stéphanie, deciding that he should go and visit her, even if he hardly knows her. Maybe her brief and obscure connection him drove her to reach out? On arrival he sees her condition, but his concern is elsewhere. Even though people come to see her and take care of her, she is clearly lonely. But he sees through her disability, inspiring her to leave her apartment and encouraging her to swim again.
In time, they grow closer, with their companionship pushing Stéphanie through her troubles. They aren't a couple, but their friendship seems vital to them. Ali gets his kicks sleeping around with different women, but doesn't see any relationship potential with them. Does his friendship with Stéphanie carry more strength?
As Stéphanie strives through, Ali starts to neglect this son. He is exhausted, fending for his son with little means and with no mother in sight. Yet, he could fix his money issues through a work connection, getting involved in underground fighting. Using his experience from in boxing and kickboxing bouts from his younger years, the fighting could be the answer to all of his troubles.
Even with Stéphanie resilience firing him to succeed in his matches, he will have to be pushed to his limits in order to truly fight.

Jacques Audiard, writer and director on A Prophet, rightly received plaudits for this piece across the numerous film festivals and award ceremonies (shockingly, no Oscar nod though!). Some great choices were made in the moulding of many different elements, in order to subtly portray certain factors. For example, for most of the score well known English language songs were chosen, creating an interesting juxtaposition against the french dialogue in the film (trying to promote it to a wider audience perhaps?) and carrying a sense of both familiarity and disconnection vital to the plot line. The biggest winner of the inconspicuous detail award however is Mr. Computer Generated. This is due to the effects laid out for the amputated legs of Cotillard's character of Stéphanie, á la Lieutenant-Dan-of-Forrest-Gump style, and very impressive they are too. There are various scenes where the none-legs get a lot of screen time and I was unsure if they were visual effect shots or some clever prosthetics until I checked the special features afterwards.
Also, the same care was taken for the incident near the start of the film that caused Stéphanie's disability, which isn't handled like a disaster movie but with the artistic bent a director of Audiard's talent brings, commencing with some crisp slo-mo shots of the whales turning tricks in the pool. The same diligence is applied to the camera work throughout as well, with some gentle pans and wide shots, paired with some handheld close-ups. Natural light, including that from the Riviera sun, is used through most of the film to enhance the shots and taken advantage of at points to create great lens flares and back lighting.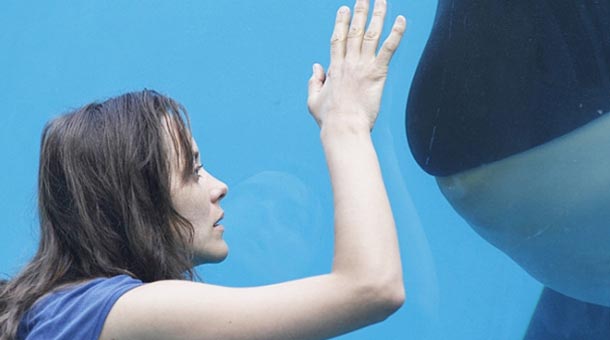 Audiard's other ace card is the story. Along with his writing companion Thomas Bidegain, who also penned A Prophet with him, they have crafted a brave but refined tale. Relying on the plot's strength's the dialogue is minimal when required, giving space for the actors to play the role through expression, which is a hard balance to achieve against some of the more meatier chapters of the script. It brings an air of distinguished emotions, and is incredibly moving, especially the unforgettable scene halfway through where Stéphanie decides to return to the water park, which elevates the whole picture. No longer is a drama of troubled companions but an example of potential triumph against all odds. Within this structure, relationships and aspects do tend to jump a little, yet this reflects the journeys our two leads are taking as they readjust to their new lifestyles.
Relationships, in fact, are the key themes in the whole tale, having impact on other elements. There is considerable strain on the connection between Ali and his son Sam at times. We're never really sure what is happening regarding the boy's mother; we can only assume that she has passed away. The effect of this on Sam rears it head from time to time, like when he coops up in the dog house, amidst all the excrement, as an allegory for him hiding from the truth of his mother never returning to him.
The relationship that pins the entire piece together, of course, is that between our leads. Their re-connection after the accident helps to drive them both to overcome their woes. It is a confusing relationship and it raises many questions on the sensitivity of companionship in such a scenario when considering love and the practicality of disabilities. It's extremely blunt in its method while quite relaxed, which I feel is a strong approach to the material and one of the reasons the film excels. What's strangely impressive however is that it appears that it's Ali that needs this relationship more than Stéphanie. There is a vibrant flip between fight or flight with him; he'll fight men, but flea from responsibility, yet she'll fight on even though her career and mobility are stolen from her.
All of these kinships are held together by an divine cast. As Ali's sister Louise, Céline Sallette stands out in what is a small role when considering her screen time. Her dialogue is minimal but her storyline has real impact on Ali's outcomes. She is the rock that Ali cannot be for his son and her execution of the character really accentuates this.
Matthias Schoenarts is strong as the male lead. Pensive throughout, he displays a strong core to prevent stressful elements of his life from breaking his spirit, while defensively preventing himself from opening up for the same reasons. He handles the role with confidence and some charm, not so much as to be a lovable rogue but as a confused man, younger than his years but with the ability to force through life's obstacles if inspired to.
The pillar to the cast of course is Marion Cotillard who is incredible, as always, in a heartbreaking role that can only be handled with the delicate grace and actress of her calibre can provide. Her character has such an unusual journey, not only through the her accident and aftermath but in the courage she builds from the incident and substance she brings from fuelling the determination in Ali. Something she is forgotten for is her sophisticated approach to how she portrays a role, sometimes with such subtlety you don't notice and it's her nomination which was missed the most from this year's Oscar ceremony.
There are some foreign films that are unique and alien to some, yet there are others that are great entries to the less initiated. Rust And Bone fits into this latter category without forgetting it's European cinematic roots. With brilliance in the cast, effects, plot, camerawork and directing, this left field love story is both a warming and chilling story, with a few surprises along the way.
Don't forget to leave comments below, tweet me @filmbore or post on my Facebook page here.

Alternatively, you could contact me directly about this film or my other reviews on pickoftheweek@filmbore.co.uk