Le Donk & Scor-zay-zee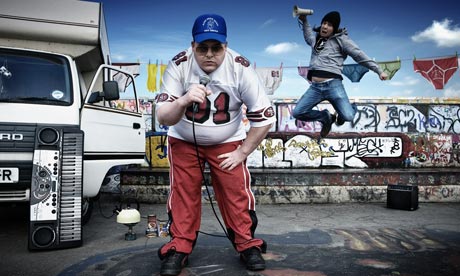 Director: Shane Meadows
Screenplay: Shane Meadows
Starring: Paddy Considine, Dean Palinczk (Scor-zay-zee), Olivia Colman, Shane Meadows
Year: 2009
Language: English
UK rental release: October 2009
IMDb
LoveFilm
Rotten Tomatoes
We're staying in Blighty this week, following last Friday's pick A Field In England, moving from historical to modern with a film by another British gem, Shane Meadows. Let's take a look at the hilarious mockumentary Le Donk & Scor-zay-zee.
Le Donk (Paddy Considine, Dead Man's Shoes, Submarine) always thought he'd hit it big. A wannabee rock star, he has had to settle with a life as a roadie. This may be well deserved, as he's an arrogant, if misunderstood, waster. However, his interesting character has caught the attention of Shane Meadows (the director, playing himself) and his crew that he is now the core subject of a documentary film they are making all about him.
He can't believe his luck. Already acting like a celebrity on their first arrival, he's comical if misleading. But there may be more layers to him than first realised. We learn that he is estranged from his girlfriend, Olivia (Olivia Colman, Tyrannosaur, The Iron Lady), who is pregnant with his child, highlighting the pressure he is put under from the pending responsibility of fatherhood, and the creeping "friend" of Olivia's who is always around her.
All is not lost in Le Donk's life however, thanks to meeting Scor-zay-zee (UK rapper, playing himself). He sees something special in this talented youth, and wants to better himself by promoting the young star as the emcee of today. He thinks that maybe with his contacts working in the music business, he may be to get some stage time for his new friend, and benefit himself in the process.
It just so happens that Le Donk has a big concert to work for soon. Sited up in Manchester, with a headline appearance from UK rock band Arctic Monkeys (in a brief cameo), it's a potential platform for his budding freestyler pal to get some attenti0n. And, with a little sweet talking here-and-there, it may just be possible to get him an appearance.
Except, with Le Donk it is never that simple. Amidst what appears to be a generous gesture to his new protégé could just a channel for him to have his own success. Question is, can he be the better man and help his new friend instead of piggy-backing on his talent?
Shot in an incredibly brief five days on a
modest budget of £48,ooo, Le Donk & Scor-zay-zee
is a great achievement in shooting on very little resource.
Due to the docu-film style, it's all filmed very directly with handheld operation, nose diving right into each scene.
And a
s soon as opening credits begin, over-layed with Scor-zay-zee's bouncy and catchy tune "Rupert Brown", blaring out over an animated stylised vignette caricaturing our
two lead characters, the required tone for this film begins to set in. This jovial beginning builds an identity taken on by our tale.
The key to this grown persona is comedy. Largely improvised it's brilliantly funny. Some of the laughs are truly great, especially in the relaxed ad-libbed scenes between Considine and Scor-zay-zee.
One particular scene that tickles the funny bones is when Le Donk is reeling off some hooks for a song that his rapping friend has pieced together. The crew filming can't keep in the hysteria, while Considine strains to continue. There's a blend of real laughter and acting brilliance with everyone involved, and this kind of vibe is rarely captured on film.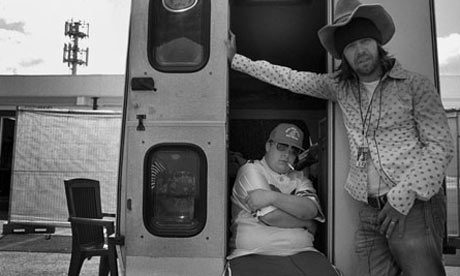 Yes, the mockumentary style has been mastered by many over the years, especially when considering the likes of Ricky Gervais and Christopher Guest. Yet, it's the breaking of barriers between documentary subject and film crew, allowing reality and fiction to merge, that makes this picture so unique. It's real but unreal all at once. The best way to describe it perhaps is that it attempts internally break the fourth wall, bleeding past the lens within the scenes but without bursting to far into our living rooms. It's a hard balance to master and Meadows has done so effortlessly.
It's this lighthearted, freestyle method that makes this one of the most realistic mockumentaries you will ever see. With a
loose script, where nearly all of the dialogue was made up on the spot, it seeps into your psyche in the first few minutes.
This
naturalistic approach also means that you fall into the tale immediately without even noticing. It's an extremely relaxed way of presenting this material allowing the characters to flourish.
It's a real character's journey too, centred mainly around Le Donk. He has moments of self-awareness that are unexpected and moving. Some of these tendencies reveal themselves in scenes with Olivia Colman, where they discuss next steps in parenthood; their differences marring the inevitable.
One juncture that really demonstrates this in a microcosmic instance is an exchange between our leads in their motor home, where honesty overrides bravado. Its this and many other moments with the pair that really shine within this piece, with an unusual, yet excellent, chemistry between both characters throughout.
Considine is fantastic as he always is (if any of you haven't noticed before, I may just be a fan of his!) but the great surprise here is Dean Palinczuk a.k.a Scor-zay-zee.
A real-life Nottingham-based rapper playing a version of himself, he's
quite fascinating in this. An exuberant character and a talented rapper in reality, it's great to see him act more downbeat, acting as a lost soul for Considine to mould in this tale while tapping into the hearts of the crew that are following him. The head of these film makers is Shane
Meadows himself, playing a slight alternative of his own personality as the documentarian. His involvement in front of the lens grounds this story even further and lends to allow a playing field for Considine to let rip with his old time friend.
Paddy uses some of his charisma and acting instinct to bring this bizarre character to life.
Le Donk or "The Donk" as originally termed by Considine and Meadows, is a character that's been around with the pair for some time. Basing him on "hanger-ons" with musicians, Paddy would take on the persona of this deluded individual off camera to pass the time.
Over the years, Le Donk has evolved into a fully formed man, and until a few years ago there was no opportunity to place him in front of the camera. However, with Meadow's desire to step down from a larger production (in this case, This Is England) to make something more humble and direct, finally finding a realm for the peculiar individual that is Le Donk is to the benefit of this fresh and highly enjoyable tale.
Shane Meadows is now a household name in the UK and has reached across international waters in small doses. What's incredible however is that, even after great success, this intelligent and creative director hasn't allowed himself to be sensationalised by the movie industry. This is to our advantage. As lovers of film, we can always guarantee that film makers like Meadows will always be able to take a step back and create original premises in natural surroundings. Le Donk & Scor-zay-zee is a prime example of this and is testament to what can be achieved with little finance, a sandbox script and little bit of that quirky British humour.
If you want to read my reviews of other films by Shane Meadows click on the respective links for A Room For Romeo Brass and Dead Man's Shoes.
Don't forget to leave comments below, tweet me @filmbore or post on my Facebook page here.
Alternatively, you could contact me directly about this film or my other reviews on pickoftheweek@filmbore.co.uk